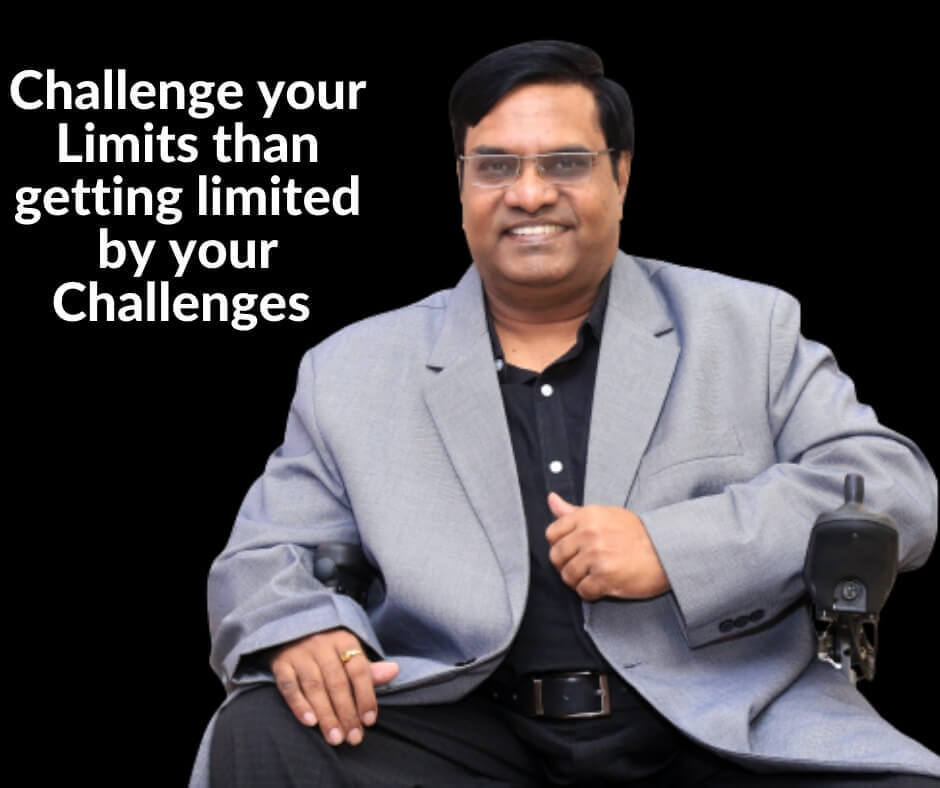 I am Niranjan Nerlige V. I am a Rebound Coach, TEDx Speaker, Author, Inspirational Speaker and Corporate Trainer. I strongly believe in "Challenging one's limits rather than limited by challenges".
Life took a completely different turn when I was about to leave for the US after passing out from a prestigious institute, Indian Institute of Technology, Mumbai. On a fateful day in 1994, I had a fall from height accidently due to high fever as a result I had to be confined to the wheelchair rest of my life.
I had to be hospitalized for two years and was taken to operation room almost seventeen times.
As Heller Keller says, "Life is either a daring adventure, or nothing". I bounced back very strongly after two years of my harrowing stay in hospital with very strong will power, determination and can-do attitude. I took up the job in an MNC to become highly successful person within next two years. I am living with my adopted son of 21 Years as a single parent.
After 12 years of corporate stint I had to leave the organisation I was working last due to lack of understanding of the management about by disability.
The day I lost the job, decided to become boss of my own life and said to myself "I will not depend on someone for living".
As they say, 'Where there is a will there is way', I decided to follow my passion to teach, became corporate trainer and I never allowed fate to take control of my life.
That is how my training and coaching company Exelplus Services was born. I trained more than 4000 participants and 85 Plus Organizations in the area of Agile Project Management to various Indian and Overseas Clients.
I have travelled five countries in my wheelchair for my work. I have delivered several motivational and coaching seminars in many educational institutions, corporates and to public.
As a corporate Trainer though I was successful. I was feeling lack of fulfilment in my life. I was always feeling I was missing something.
In the year 2016, I was invited as a facilitator to the conference in Boston to inspire a group of people in the US. The South Dakota group to whom I was addressing triggered my thought to take up the role of inspiring people, motivate and transform them to change their life.
This is how I became a Rebound Coach helping, serving people to rebound in their life irrespective of circumstances and create the life they wanted.
Soon I was followed with many awards and recognitions.
I was awarded "Rotary Diversity Award - 2018", for vocational excellence and being the inspiration for my achievements and never say die spirit.
I was interviewed in TV Channels such as Dooradarshan, AB News and Radio channels about my life.
I have been featured in several newspapers and magazines about my life and my accomplishments.
I was invited for TEDx talk at DSCE, Bengaluru as a TEDx Speaker in 2019.
I have been featured in Forbes Magazine as an "Unstoppable Rebound Coach"
In Sep 2021, I was interviewed by one of the crew members of most renowned life coach and business strategist, Tony Robbins, UPW team and this interview was video streamed to corporate professionals in Philippines.
I authored a book 'I CHOOSE TO BE UNSTOPPABLE' which is an inspiring story of how a physically challenged person, overcame all odds to live a life of incredible achievement, success and fulfilment.
My book became #1 Best Seller in Amazon.
Currently I coach and inspire people to bounce back in their life irrespective of their situation, create happy, successful and prosperous life.
I have designed a Life Changing Transformational Program "STAND UP - Rewrite your destiny & U can" and a personal transformation system that will help people to lead happy, successful life despite any situation.
My mission is to help 1,00,000 people in next 5 years to realize their potential and rewrite their destiny.
I strongly believe when person who is in wheel chair can stand up in his life, for his challenges and dreams, leading an "Unstoppable and Fearless Life" though I cannot stand up on my feet, anyone can stand up for his/her life and can create the life way they want by developing fearless and unstoppable attitude.